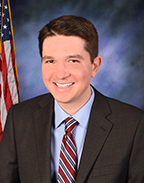 About Senator Steve McClure:
State Senator Steve McClure (R-Springfield) represents the 54th Senate District. He was sworn into office on January 9, 2019. Steve was born and raised in Springfield, and his family has a long history of public service. Both his parents worked in Illinois State Government, and his grandfathers served in the military.
Steve attended Springfield High School, where he excelled as a student and as a record-setting athlete. There he served as co-captain of the wrestling team and, as a senior, he broke the school's single-season record for his weight class. During his summer months he performed maintenance work at the Illinois State Fairgrounds.
Later, he went on to attend college at Arizona State University in Phoenix, where he earned two bachelor's degrees in four years—one in history and the other in political science. After college, Steve returned home to attend the University of Illinois at Springfield. There he earned a master's degree in political studies while working as a legislative intern for the Illinois Senate Republican Caucus. During that time he analyzed budgets on the appropriations staff. From there, Steve went on to obtain a law degree from Valparaiso University School of Law in Indiana.
After graduating from law school, Steve accepted a position as an assistant state's attorney in the Sangamon County Juvenile Division. As a juvenile prosecutor, he was dedicated to protecting children from abusive parents, rehabilitating delinquent youth, and was unwavering on providing assistance to children with chronic absences. It was at that time that his leadership skills were recognized, and he was promoted to chief of the division. From there he went on to serve in the Sangamon County Felony Division. As a felony attorney, Steve prosecuted drug dealers, burglars, violent criminals, gang members, and perpetual thieves. Steve also focused on cases involving those attempting to take financial advantage of senior citizens. He also served as a member of the Lincoln Land Adult Fatality Review Team. The team investigates the abuse and neglect of vulnerable adults that have passed away.
In 2017, Steve resigned his position as assistant state's attorney to run for state senate, and was elected in 2018. In the Illinois Senate, he serves as Assistant Leader and Assistant Floor Leader for the Senate Republican Caucus. Steve is also the leader for Senate Republicans on criminal law issues and the Republican leader on the Criminal Law Committee.
Despite being in the super minority, Steve has been able to pass bills to help with the public school teacher shortage, the COVID-19 student learning gap, and the bus driver shortage. He also passed legislation to protect citizens from internet exploitation and to provide more job opportunities for veterans. Most recently, Steve passed legislation to allow DCFS frontline workers to carry pepper spray for self-defense purposes.
.
About Senate District 54:
The 54th Senate District is located in central Illinois and encompasses all or parts of Christian, Cumberland, Effingham, Macon, Macoupin, Menard, Montgomery, Moultrie, Sangamon, and Shelby Counties.